Australian Open 2017
Live Stream, TV, Schedule, Tickets, Seedings
Rod Laver Arena, Melbourne Park, Melbourne, VIC, 16-29 January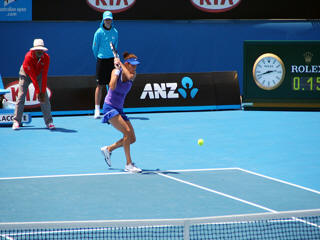 The Australian Open is one of those events that will always hold special meaning for me personally as it is one I have attended personally in the past. Way back in 1997 I was in Melbourne during January as part of my gap year living and working in Australia so was fortunate to be in town for both the tennis and the Australian Grand Prix, 2 massive sporting events ticked off the bucket list in quick succession.
I was actually fortunate to be able to return to Melbourne in 2016 and visited the Rod Laver Arena once again. It remains one of the most spectaxcular sporting settings anywhere in the world, worthy of such an important tournament.
Aside from actually watching the tennis, the atmosphere in and around Melbourne Park is fabulous during the tennis. You have a spectacular setting right on the banks of the picturesque Yarra River, and plenty of greenery in the surrounding area to take a stroll, enjoy a picnic (or more likely a barbecue if you're fully embracing the local culture!). Even inside the stadium complex there's plenty of space to wander around between courts and take in different matches throughout the day, along with plenty of refreshment options at prices that aren't too unreasonable for such a major sporting event. Try a trip up to the top of the Eureka Tower too for some amazing panoramic views across the whole city.
Event Details
The tournament lasts from the 16th to the 29th January in 2017. Full list of seedings and the schedule/order of play to follow
TV & Live Streaming
The Australian Open has been one of the first top sporting events to fully embrace live online streaming and offers an extensive range of both live and delayed coverage via their official website:
There are however broadcast rights issues, so whether this will work for you will depend on your location. They do also maintain an excellent Youtube page, with loads of streaming video regularly uploaded, and some live coverage:
Australian Open Official Youtube
In the US, you can also watch online via ESPN, who are offering over 100 live hours on ESPN2 and a massive 600 hours via ESPN3. To watch ESPN online, visit:
Hotels and Accommodation
If you're planning on some time in Melbourne and Victoria during the Australian Open and looking for somewhere to stay then you can check out availability and make online reservations for local hotels here.
Reviews & Sharing
Page content by Martin Kerrigan. If you have found the content on this page useful then please feel free to share it with your friends and family, or if you have any information or updates that might be useful for us to add to the page then please contact us