Berlin Marathon 2018
Live Stream, TV, Route, Start Time, Schedule
Berlin, Germany, 16 September, 9.00am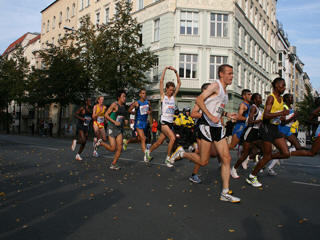 The Berlin Marathon is one of the iconic Marathon Majors, alongside the other biggest and most popular races in London, New York, Boston, Chicago and Tokyo and the second biggest marathon in Europe, second only to the Virgin London Marathon. An estimated 40,000 runners enter the Berlin marathon each year, watched by crowds lining the route of around 1 million, joined by an online and TV audience numbering several million more worldwide.

The Berlin marathon has been taking place each year sincde 1974 and has a course that takes in some of the city's most iconic sights, with both the start and finish lines located near the famous and spectacular Brandenburg Gate, while runners get to pass through Charlottenburg, Kreuzberg, Neukolin, Schonenburg, Friedenau and Zehlondorf, plus of course around the imposing Tiergarten.

As well as the main running event there is, as is now traditional at all the major marathons, a wheelchair race, while in Berlin we also have the addition of the Skater Marathon, which also acts as the final of the World Skater Cup competition and includes an estimated 8000 participants.
Race Route and Schedule
The main marathon is only part of the events on marathon weekend, that also includes:

Saturday:

11.00: 500m and 1000m Bambini Run
15:20: Mini marathon
15:30: Inline Skating marathon

Sunday:

8:35: Wheelchair marathon
8:43: Handbike race
9:00: Main marathon

The race starts and finished at the Brandenburg Gate and travels in a circular route around the city. The full course map is available as an excellent interactive feature on the official race website:

Berlin marathon course
Social & Streaming
As one of the marathon majors there is plenty of online coverage available to the international audience. We'll locate the best streaming links nearer to race day and post them right here.
Latest: Live streaming of the Berlin marathon this year is being provided online by Watch Athletics - watch their stream here:
Berlin marathon stream

Another option you might like to consider is to check our some of Berlin's many live webcam views, which help to give a different perspective on life on the city on marathon day, with an excellent camera in particular available at the Brandenburg Gate, where you can watch the race start and finish line:

Berlin webcams

You can also keep up with the very latest on the race and surrounding events via the usual popular social media channels, including Facebook and Twitter.
Hotels and Accommodation
There is rarely a shortage of good quality hotel and apartment accommodation in Berlin, with most budgets catered for. It does get busy around marathon weekend theough so it's advisable to make your plans as soon as you can.
You can check availability and make reservations for local hotels here.
Reviews & Sharing
Page content by Martin Kerrigan. If you have found the content on this page useful then please feel free to share it with your friends and family, or if you have any information or updates that might be useful for us to add to the page then please contact us