Boston Marathon 2017
Live Stream, TV Coverage, Route, Start Time, Schedule
Boston, Massachusetts, Monday 17 April, 9.00am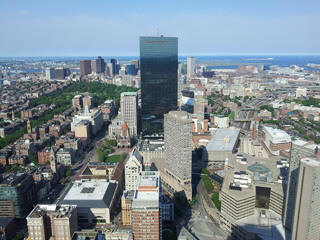 And so the marathon race calendar heads on to Boston for the first of the season's World Marathon Majors, an elite selection of events now expanded to 6 with the addition of Tokyo in 2013 to the previous big 5 of Boston, London, Berlin, Chicago and New York City. April in particular is a very big month in this series, with the Virgin London Marathon to come the following weekend.
The Boston Marathon is one of the older events, having first been established in 1897 and has been managed throughout it's entire history by the iconic Boston Athletic Association or BAA. It is also one of the few races that has managed to avoid official affiliation with a corporate sponsor, which I think is worthy of note in this day and age.
If I was going to take part in just one of the US marathons then I have to confess I would almost certainly choose New York, as the range of landmarks and noteworthy places is just incredible, but Boston is a city I would very much like to visit one day, and I would be very happy if I could time this to coincide with marathon weekend, especially as the spring is reported to be one of the nicest times of year to see the place.
Of course it is now an event that will forever be associated with the tragic events at the 2013 race, but the city of Boston is not easily downtrodden and the people will be keener than ever to demonstrate their robust nature to the world with ever bigger and more popular turnouts, making this into an especially poignant event.
Event Details
The start times for the race are staggered by category, and take place over quite an extended time frame, reflecting the size of the field:
9:00 a.m. Mobility Impaired Program
9:17 a.m. Push Rim Wheelchair Division
9:22 a.m. Handcycle Participants
9:32 a.m. Elite Women
10:00 a.m. Elite Men and First Wave
10:20 a.m. Second Wave
10:40 a.m. Third Wave
The course is as follows:
Start on Main Street, Hopkinton
Route 135 through Ashland, Framingham, Natick, and Wellesley
Route 16 through Newton Lower Falls to Commonwealth Avenue
Chestnut Hill Avenue
Cleveland Circle
Beacon Street
Kenmore Street
Commonwealth Avenue (inbound)
Hereford Street
Boylston Street
Finish in Copley Square, near the John Hancock Tower.
TV & Live Streaming
It was only a few years ago that finding any online coverage of the Boston Marathon was close to impossible, and even TV broadcasts were extremely limited. Fortunately the event has moved quickly with the times and there are now several streaming options available.
The main broadcaster in the US this year is once again NBC Sports, which is available as an online stream, but please be aware you will require a live subscription:
Local TV coverage is provided by Boston channel WBZ-TV, which also now provides a live streaming option:
There is also live international coverage provided by the FloTrack service, but agasin this is a subscription channel that you will need to pay to access.
Hotels and Accommodation
If you're planning on being in Boston or the surrounding areas for the marathon weekend and looking for somewhere to stay you can check out availability and make online reservations for local hotels here.
Reviews & Sharing
Page content by Martin Kerrigan. If you have found the content on this page useful then please feel free to share it with your friends and family, or if you have any information or updates that might be useful for us to add to the page then please contact us