Great North Run 2017
Live Stream, Route, Start Time, Schedule
Newcastle, UK, Sunday 10 September, 9.00am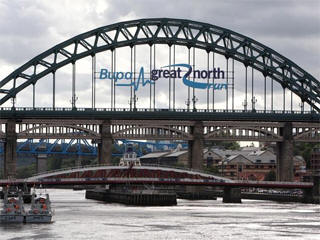 Well this is something of a rarity in the sports section, an event that I have actually personally participated in! It's a few years ago now and a change of job a couple of months before the race seriously cut into my training time (that's my excuse anyway!) but I still managed a time a little over 2 hours, which I was pretty pleased with.
The Great North Run is actually increasingly difficult to get into, as it is now seriously oversubscribed each year, so getting entry just as a single runner is lottery, literally, as the names are selected at random from the list of applicants. one way around this is to run for one of the charities that have pre-booked places, you'll just need to pledge to raise a minimum amount for them in return.
This is the route I chose when entering the race, not just as a way to ensure I got a place, but also as added motivation - if I was just running for the sense of achievement then the temptation to drop out and just not bother would have been very compelling, especially with my relative lack of training, but when there's hundreds of pounds of charity funding at stake then that really isn't an option!
I did find though that the atmosphere and crowds really do help to keep you going, and pull you through the hardest miles, several of which are relentlessly uphill, although if I could offer one piece of advice it would be not to sit down on the grass as soon as you finish - getting up again can be something of a challenge!
Event Details
The famous course starts in Newcastle, runs through the town and Gateshead areas before finishing by the coast at South Shields. One of the most noteworthy landmarks is the crossing of the Tyne Bridge, which tends to be the race's iconic image.
There is a map of the full route on the official site:
TV & Live Streaming
The Great North Run is one of those special events that is still covered by the good old BBC, with full, detailed coverage throughout the day on the main BBC1 channel:
You can watch highlights of previous races on Youtube:
There are also several live webcam views in the area to help view the race from a different perspective, including a couple handily positioned on the Tyne Bridge:
You'll also find all the very latest updates on the run on the usual social networks:
Hotels and Accommodation
If you're planning on being in the Newcastle and Tyne and Wear area on the Great North Run weekend and looking for somewhere to stay you can check out availability and make online reservations for local hotels here.
Reviews & Sharing
Page content by Martin Kerrigan. If you have found the content on this page useful then please feel free to share it with your friends and family, or if you have any information or updates that might be useful for us to add to the page then please contact us