LA Marathon 2017
Live Stream, TV, Route, Start Time, Schedule
Los Angeles, California, Sunday 19 March, 6.55am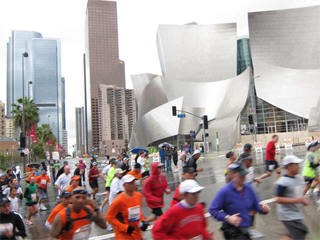 Well I have something of an obsession with marathon courses that take in a range of popular locations and famous landmarks, which is why the New York and Rome marathons in particular have a real appeal to me, but when it comes to sheer volume of noteworthy locations then few can match up the the Los Angeles event.
The LA marathon takes place in mid-March each year, which for many US locations would pretty much guarantee you some dodgy weather conditions, but in California at this time of year the climate is much more likely to oblige with some nice warm sunshine, without being so hot as to make life unpleasant for the participating ahtletes.
This marathon has been taking place each year since 1986, and was originally inspired by the success of the marathon events at the 1984 LA Olympic Games and it is now one of the most popular in the United States. The course itself is a run through one of the most iconic and memorable cityscapes anywhere in the world and passes by some of the most instantly recognisable global landmarks, including Grauman's Chinese Theatre and the Walk of Fame on Hollywood Boulevard, the famous Hollywood sign, sections of Route 66, Beverly Hills City Hall and the Santa Monica Pier.
Event Details
This year the event is officially sponsored by Asics. The race gets underway from the Dodger Stadium on Elysian Park Avenue. There are different start times by participant category as follows:
6.55am - Wheelchairs
7.00am - Hand cycles
7.28am - All other athletes
From the Dodger Stadium start line, the route reads like a checklist of famous streets and landmarks, proceeding as follows:
Olvera Street
City Hall
Chinatown
Hollywood Boulevard
Sunset Strip
Beverly Hills
Rodeo Drive
Ocean Avenue
Santa Monica
There is a full map of the race route on the marathon's official site, which includes very useful turn by turn instructions which should prove especially handy for first time participants:
TV & Live Streaming
The range of online viewing options is getting better each year, and the LA marathon is now one of those events where pretty much anyone will be able to find a way to watch. Local channel KTLA5 will be showing the whole race on TV which should also be available as a live stream on their website; watch the live stream here:
There will also be live online radio coverage by the Fox Sports AM570 Los Angeles channel
An interesting alternative perspective can also be obtained by watching some of the local webcam views in the city. My personal favourite is the live streaming cam view from Hollywood Boulevard:
And there is always the usual range of video streams on Youtube, including official coverage form previous events as well as weird and wonderful user videos uploaded by spectators and participants alike:
Los Angeles Marathon on Youtube
Hotels and Accommodation
If you're planning on being in LA or the surrounding for the marathon weekend and looking for somewhere to stay you can check out availability and make online reservations for local hotels here.
Reviews & Sharing
Page content by Martin Kerrigan. If you have found the content on this page useful then please feel free to share it with your friends and family, or if you have any information or updates that might be useful for us to add to the page then please contact us