Orange Bowl 2017
Live Stream, TV Coverage, Rosters, Start Time, Schedule
Hard Rock Stadium, Miami, Florida, 30 December, 8pm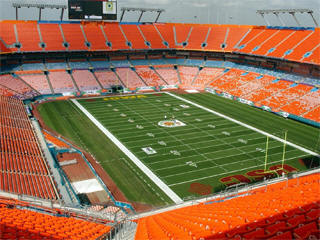 The Orange Bowl is another key game in the college football calendar taking place over the holiday period, and has moved over the years between a prime slot on new year's day and the college football playoff semi final game on new year's eve, and now even to a day earlier, in the evening of 30 December.
The game has changed venues sevweral times, until recently being played at the Capital One Orange Bowl stadium at Sun Life Stadium but the current home is the Hard Rock Stadium.

The Orange Bowl game is one of the oldest college bowl games, having been taking place each year since 1935 and draws big crowds both to the stadium and as a watching TV audience, as the game is broadcast live to the nation via ESPN, see details further down the page for how you can watch this either on your television or online via live streaming.
Event Details
The event this year will be taking place on 30th December, a change from new year's eve.
For all the latest on new year's eve events in Miami:
TV & Live Streaming
The broadcast rights for the Orange Bowl are now carried by ESPN. This does require a subscription but you can watch online or on your mobile device, and they do offer the convenience of a 24 hour pass if you just wish to pay for this one game.
Hotels and Accommodation
If you're in Miami over the New Year period then you will be competing with all of the new year's eve visitors for accommodation, and as new year in Miami is a huge vent these days thanks to Pitbull and his Bayfront Park party then this does meand that the accommodation in the best places is very much at a premium, so you can expect to pay top dollar for anywhere in and around the city, and expecially at the Miami Beach region.
If you are looking for somewhere to stay to attend the Orange Bowl then you can check out availability and make reservations for local hotels here.
Reviews & Sharing
Page content by Martin Kerrigan. If you have found the content on this page useful then please feel free to share it with your friends and family, or if you have any information or updates that might be useful for us to add to the page then please contact us