Paris Marathon 2017
Live Stream, TV Coverage, Route, Start Time, Schedule
Paris, France, Sunday 9 April, 8.45am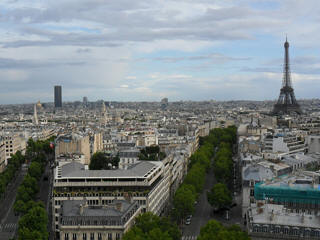 There are many major cities around the world where running a marathon becomes much more than an athletic challenge as the history and scenery of the location itself help to significantly enhance the experience. Most notable entries in this particular category would be New York, London and Rome, but for sheer volume of monuments and recognisable landmarks few places can match up to Paris, also one of the oldest, having first been run in 1896.
The Paris marathon gets underway in just about the most spectacular way imaginable by running down the spectacular Champs Elysees, with the Arc de Triomphe at your back. There's possibly only the Brandenburg Gate start and finish line in Berlin that can provide such an iconic feature.
After the start, the landmarks just keep coming, you can see the Eiffel Tower of course, then will get to run by the Bastille, the Place de la Concorde, Chateau de Vincennes, Musee d-Orsay, the Pompidou Centre and of course the Cathedral at Notre Dame.
I know from experience that having some decent scenery to take your mind off the pain can be a big help in getting through an endurance event such as a marathon, and when you add in the cheering enthusiasm from an estimated half a million spectators lining the streets then this is one marathon you definitely have every extra advantage available in helping you get through it.
Event Details
The Paris marathon takes you through one of the best known capital cities in the world, with the opportunity to view some of the most iconic landmarks. The disabled athletes start at 8.35am, the rest 10 minutes later. The course is as follows:
Start on the Champs Elysees
Rue de Rivoli
Place de la Bastille
Rue du Faubourg Saint Antoine
Rue de Reuilly
Avenue Daumensil
Chateau de Vincennes
Route de la Pyramide
Route Saint Hubert
Route du Pesage
Avenue de Gravelle
Porte de Charenton
Boulevard Boudon
Quai de Celestins
Voie Georges Pompidou
Place de Varsovie
Avenue du President Kennedy
Rue Mirabeau
Rue Molitor
Boulevard d'Auteuil
Avenue des Fortifications
Carrefour des Cascades
Avenue de Saint Cloud
Allee de la Reine Marguerite
Avenue de Longchamps
Route de la Muette a Neuilly
Finish on Avenue Foch.
For a full, detailed map of the route, including major landmarks, refreshments and first aid stations, see the official site:
TV & Live Streaming
There are a wider range of online viewing options for the big marathons becoming available each year. Live coverage of the Paris marathon in recent years has been provided by Eurosport, with TV broadcast coverage and online streaming.
This year there is live online coverage provided by the excellent Watch Athletics:
An alternative way of viewing the marathon that I'm a big fan of is to check out some of the local webcams - there are a range of them in key locations around Paris, with one on the Champs Elysees in a particularly good vantage point:
There will always also be a wide range of coverage of the race on Youtube, where the user-recorded videos in particular help give a perspective as to what it is like to be actually there:
Hotels and Accommodation
If you're planning on being in Paris for the marathon and looking for somewhere to stay you can check out availability and make online reservations for local hotels here.
Reviews & Sharing
Page content by Martin Kerrigan. If you have found the content on this page useful then please feel free to share it with your friends and family, or if you have any information or updates that might be useful for us to add to the page then please contact us