San Francisco Marathon 2017
Live Stream, TV Coverage, Course, Start Time, Schedule
San Francisco, California, Sunday 23 July, 5.30am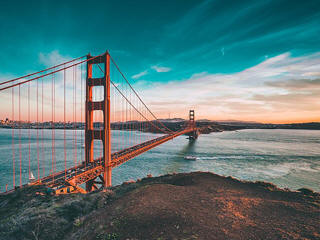 The San Francisco marathon, often commonly abbreviated to just the SF marathon, takes place in late July each year since the first event in 1977 around a loop course that starts and finishes on the city's famous Embarcadero and takes in many of the iconic tourist sights that San Francisco has to offer, including of course the Golden Gate Bridge, plus Fisherman's Wharf, Aquatic Park and Golden Gate Park.

As is increasingly common with marathon events these days the main San Francisco marathon is only one part of a whole weekend of athletic events that also now includes a 5k race, an Ultramarathon of 52.4 miles which takes in a section of the Great Highway and, uniquely, 2 different half marathons, offering the chance to run either the first half or the second half of the full marathon course.

This represents an innovative approach to getting as many athletes as possible out onto the course and avoiding overcrowding issues. The San Francisco marathon is also a Boston marathon qualifying event, which adds further to it's great appeal, with the marathon itself currently attracting over 25,000 participants.
Event Details
The San Francisco marathon has a very early start time, hoping to avoid the most intense summer heart with a 5.30am start from Mission Street and The Embarcadero.

The main marathon finish line is just a short distance away from the start, at Folsom Street and The Embarcadero.

You can see a full detailed map of the marathon course here:

San Francisco marathon course
TV & Live Streaming
The San Francisco marathon was streamed live online last year in a partnership with USL TV, bringing the event to a much wider audience with their webcast. We will provide the links for any online and television coverage as and when we receive them.
There will be live athlete tracking via the official site if you want to keep tabs on someone you know in the marathon:
Hotels and Accommodation
If you're planning on being in San Francisco and the surrounding Bay area for the marathon weekend and looking for somewhere to stay you can check out availability and make online reservations for local hotels here.
Reviews & Sharing
Page content by Martin Kerrigan. If you have found the content on this page useful then please feel free to share it with your friends and family, or if you have any information or updates that might be useful for us to add to the page then please contact us