Lanzarote Ironman 2017
Live Stream, TV Coverage, Route, Start Time, Timing
Club La Canta, Lanzarote, Canary Islands, 20 May, 7.00am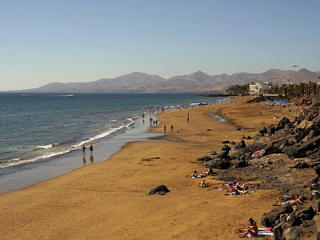 The Lanzarote Ironman isn't one of the larger events on the Ironman triathlon calendar but it is very popular with the athletes in particular, offering a challenging, warm weather course at a time of year when these facilities are at a premium.
Taking place on the northern part of the island, with many tough climbs on the cycle circuit in particular, this is widely regarded as one of the toughest Ironman events anywhere in the world.

There has been an Ironman event on Lanzarote for many years now, with the first official race taking place back in 1992, when the venue was Playa Blanca. It then quickly moved to the popular tourist resort of Puerto del Carmen, which is still home to the triathlon today. The popularity of the event is also in no small part due to the 40 qualifying spots available for the Ironman World Championships in Hawaii.
Course and Schedule
The tough and challenging Lanzarote Ironman course is broken down as follows:

Swim

A 2 lap course at Playa Grande in Puerto del Carmen

Cycle

Starting and Finishing in Puerto del Carmen, the challenging bike course takes in the Fire Mountains, Teguise, Los Nieves and Nazaret and includes total climbs of over 2500 metres

Run

A 3 lap course, the first of 21km then 2 of approximately 10km. The main route is along the well known Avenida de Las Playas in Puerto del Carmen

You can see route maps for all sections of the course here:

Lanzarote Ironman maps
TV & Live Streaming
There is an increasing range of online coverage available for the Ironman races with availability of TV, video and streaming varying by location. There is live timing and streaming on the official Ironman site:
You can also keep up with all the race latest with live real time online text commentary here:
You can also follow events live on Twitter using the hashtag #Ironman - this can be a good way of getting live video feeds from spectators at the event, especially with the growth of live video streaming sites like Periscope.
Hotels and Accommodation
If you're in Lanzarote for the triathlon and planning on spending some time around the area then you can check out availability and make online reservations for local hotels here.
Reviews & Sharing
Page content by Martin Kerrigan. If you have found the content on this page useful then please feel free to share it with your friends and family, or if you have any information or updates that might be useful for us to add to the page then please contact us