Ball Drop 2019
Live Stream, TV Coverage, Online Webcast Feed
Times Square, Manhattan, NYC, New York, 31 December 2018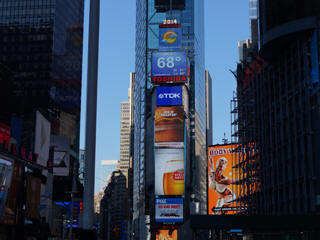 The Times Square Ball Drop in the heart of New York City is very possibly the iconic new year's eve event, and one that provided the bulk of the images for news reports around the world, with the only real competition on anywhere near the same scale coming from the Sydney Harbour fireworks party in Australia many hours earlier.

The ball drop is one of those events that we think everyone should try to attend at least once in their lifetime - it is crazy, hectic, overwhelming and exhausting, but in terms of experience and stories to tell, totally worth it!
Event Details
The ball drop takes place at midnight, as you might expect and Times Square fills up way ahead of this time, and there is entertainment provided throughout the afternoon and earlier evening. See our New Year Rockin Eve page for more details about the buildup appearances and performers.
It is free to attend but the area is closed once it is full so to be certain of getting in then you need to arrive no later than 3pm, earlier if you can. And if there's one top tip we can pass on, it is don't drink too much that morning, bathroom facilities are at a premium to say the least!
Social & Streaming
The Ball Drop has been streaming online now for several years, with the added bonus that the organisers are actually happy to provide the code for webmasters to embed the video stream in their own website, so you will actually be able to watch the full ball drop live stream right here, please come back on new year's eve and we'll have the stream linked up and ready to go!
Latest: Watch the Ball Drop 2018 live stream online
Don't forget there is always live action available on the fantastic live streaming Times Square webcams if you would like to try and catch the mood in the area as the excitement builds up during the day.
Hotels and Accommodation
If you're in New York on new year's eve then I'm afraid there's just no escaping it, unless you have friends or family who can accommodate you then you're going to pay an absolute fortune for your accommodation.

There are some savings to be had by staying further out, and prices do drop once you leave Manhattan in particular, but you are still going to be looking at a large invoice for a bed in places such as Jersey City, Long Island City, Brooklyn or Queens. On the positive side the public transport is excellent, so as long as you're staying near a Metro or PATH line you will at least be able to get home afterwards.

There are some decent offerings to be had using AirBNB, but we do recommend you check that you are legally allowed to stay there, not all the places listed have all of the relevant licensing in place.

One personal recommendation is the Residence Inn at Central Park, the tallest hotel in the city where not only do many of the rooms have direct views over Times Square and the city skyline but there is also an outdoor balcony where the views over Times Square and the point where the ball drop takes place are about as good as you're going to find anywhere.
You can check availability and make reservations for local hotels here.
Reviews & Sharing
Page content by Martin Kerrigan. If you have found the content on this page useful then please feel free to share it with your friends and family, or if you have any information or updates that might be useful for us to add to the page then please contact us
For a full range of new years eve parties around the world you can also visit New Years Eve Live.