Bastille Day Military Parade 2017
Live Stream, TV, Schedule, Start Time, Lineup
Defile Militaire du 14 Juillet, Champs Elysees, Paris, France, 14 July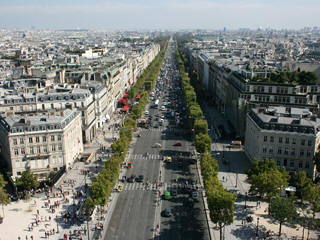 I must confess that Bastille Day represents an era of French history that until relatively recently I had paid very little attention to - I was aware of the significance of the date of course, and knew a little about the history of the storming of the Bastille but that was the extent on my knowledge.
Over the last couple of years though I've been reading a bit about the life of Napoleon Bonaparte (historical novels only I'm afraid, they're the only was I can keep learning about historical events entertaining enough to persevere with) and have found the whole subject incredibly fascinating. Now the 14th July, or Quatorze Julllet for the Francophiles, is an excuse for a party and across the country the people throw themselves into the party, with the focus still very much on event sin the capital city, Paris.
The military parade on Paris' iconic Champs Elysees is a key element of the French people's celebrations of their own independence Day and has been taking place for well over 100 years now, having began in 1880, making it the oldest annual military parade in the world. In recent years it has also been adapted to recognise the contribution of French troops serving in current conflicts such as Afghanistan.
Remember to also check out the Bastille Day fireworks display live coverage: Bastille Day fireworks live stream
Route and Schedule
The parade follows a very simple route, straight down the Champs Elysees, starting at l'Arc de Triomphe and finishing on the Place de la Concorde, where the French President awaits.
The lineup includes over 7000 military personnel in total and includes foot, motorised and airborne elements, The full list of participating units is as follows:
Marching Units

French Republican Guard Infantry Regiments
Military Polytechnic School
National Gendarmerie Officer School
Saint-Cyr Special Military School
Military Inter-arms School
Military Academy of the Technical and Administrative Corps
Naval Military Academy
Marine Commissariat Officers Cadet School
Air Force Academy
Military School of the Air
National Active Non-Commissioned Officers School
French Defense Health Service Schools (Bordeaux and Lyon-Bron)
National Gendarmerie NCO Academy
ENSOA (Army's NCO Academy)
Ecole de Maistrance (Navy NCO Academy/NCO Training School)
ESOA (Air Force NCO Academy)
French Navy Naval Fusiliers
French Navy Submarine Force
French Navy Surface Forces
French Naval Aviation
French Navy Maritime Gendarmerie
French Army Armoured Cavalry Branch
French Army Parachute Forces Units
French Army Infantry and Mountain Troops
French Army Artillery Command
French Army Engineers Command
French Army Marine Troops
French Army Transport Command
French Army Materials and Quartermaster Command
French Army Signals
French Air Force Air Fusiliers
French Air Force Air Gendarmerie
French Air Force Logistics
French National Police School
National Police Superior School
National Police Superior Officers School
Interior Ministry Security Service
National Firefighting Service Officer Commissioning Academy
National Firefighting Service NCO School
Paris Fire Brigade
French Foreign Legion Foreign Engineers
Central Band of the French Foreign Legion
French Foreign Legion Foreign Cavalry
French Foreign Legion Foreign Infantry

Mounted Column

Mounted Fanfare Band of the French Republican Guard
Cavalry Regiment of the French Republican Guard

Mobile Column

Motorcycle Squadrons of the French Gendarmerie (Republican Guard and Departmental Gendarmerie)
French Army Operational Force High Command
Alpine Hunters Regiment, Army Mountain Troops
16th Rifle Hunter Battalion
1st Medical Regiment
French Army Transportation
French Army Materials and Quartermaster Command
French Army Motorized and Mechanized Infantry
French Army Artillery Command
French Army Armored Cavalry Branch (Spahis, Hussards, Mounted Rifle Hunters and African Rifle Hunters, Dragoons, Cuirassiers and 501st-503rd Tank)
French Army Engineers Command vehicles
French Army Marine Infantry vehicles
French Army Marine Artillery
French Foreign Legion mobile vehicles (infantry and engineers)
Paris Fire Brigade

Aerial Flypast

Patrouille de France
French Air Force Air Squadrons and Flights
French Army Light Aviation
French Naval Aviation
Interior Ministry Civil Security Air Service
TV & Live Streaming
The military parade is shown live on French television every year - this year the channels showing the parade are L'equipe HD, I-Tele and BFM TV.
To watch online:
Another good way to get a more unique perspective on the celebrations is to check out some of the local webcam feeds - there are several in key locations in central Paris, including a live stream right on the Champs Elysees:
Hotels and Accommodation
If you're in Paris for the Bastille Day celebrations and looking for somewhere to stay to attend any of the parades or other events you can check out availability and make reservations for local hotels here.
Reviews & Sharing
Page content by Martin Kerrigan. If you have found the content on this page useful then please feel free to share it with your friends and family, or if you have any information or updates that might be useful for us to add to the page then please contact us