Boston St Patrick's Parade 2017
Live Stream, Lineup, Route, Start Time, Schedule
Boston, Masachusetts, 19 March, 1.00pm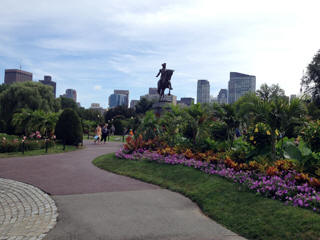 Boston is one city where you would certainly expect to find a parade St Patrick's day parade given the large influence the Irish heritage has had on the origins and development of the city, and they certainly don't disappoint with the South Boston parade being widely recognised as the second largest in the country, coming in only behind New York City with an audience of an estimated 1 million taking to the city's streets to mark the occasion.

The Boston parade has the benefit of being shifted to the Sunday closest to St Patrick's day itself and this means work and school conflicts are minimised and more people are free to come out and enjoy the day unencumbered. The parade, known locally as Southie's annual wearing of the green, isn't one of the oldest, tracing it's origins back to 1901, but it has certainly grown quickly in the intervening years.

The weekend timing also means a better trade for the local bars, and Boston has a number of Irish bars and hostelries that support the parade and will provide a warm welcome to any visitors on parade day. These include Shenannigans Irish Pub, STATS Bar and Grille, Amrheins Restaurant, Playwright Restaurant and Bar and the Boston Beer Garden.
Route and Schedule
Latest: The 2017 Boston parade route has been shortened due to snow - it will now end at Farragut Street.
The Boston St Patrick's Day parade route is as follows:

Start on West Broadway
East Broadway
P Street
East 4th Street
K Street
East 5th Street
G Street
Southerly Arm of Thomas Park
Telegraph Street
Dorchester Street
Ends at Dorchester Avenue

You can see a map of the complete parade route here:

Parade route map
TV & Live Streaming
The parade's official site is promising TV coverage of the event, which we would assume will be by one of the local networks. We'll keep an eye out for the details and post them here once they are confirmed. Hopefully it will be a station with an online channel so there will be a live stream available too.
Latest: The parade and the St Patrick's Day breakfast are both being shown live on TV by necn. This is also available as a live stream here:
necn live stream

Another underrated resource is also to tune in to some of the local webcam views, taking you onto the city's streets throughout the parade weekend:

Boston webcams
See live coverage of all the top St Patrick's Day parades on our live streaming page: St Patrick's Day live
Hotels and Accommodation
If you are planning on being in Boston for the weekend prior to St Patrick's day then it is advisable to secure your accommodation well in advance to get the best choice. Boston has an excellent range of hotels across all budget ranges.
You'll find a full range of accommodation to choose from, search and check availability for local hotels here.
Reviews & Sharing
Page content by Martin Kerrigan. If you have found the content on this page useful then please feel free to share it with your friends and family, or if you have any information or updates that might be useful for us to add to the page then please contact us