St Patrick's Day 2017 Live Streaming
Watch Online Festival Parade Webcast Feeds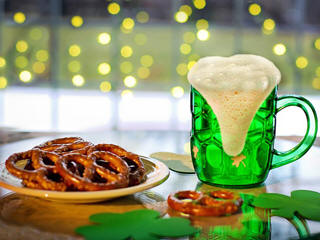 St Patrick's Day is widely celebrated in towns and cities around the world, and is especially popular in Ireland (obviously!) and across the United States on America, where many places have large descendent Irish immigrant populations.
This page brings you links to all of our St Patrick's Day pages, with an emphasis on finding live coverage so you can watch the main events live wherever possible.
Live Streaming
The following pages all have details of the live coverage options for the St Patrick's Day parades and events in each location.
We should point out that quality and availability of this live coverage varies - the bigger parades, especially in Dublin and New York, have more extensive live stream, TV and online viewing options, while for some of the smaller parades we may have to rely on local TV networks and their variable quality streaming webcast feeds or sometimes even well positioned streaming webcam views:
Boston
The South Boston St Patrick's Day parade is one of the oldest and largest in the United States - more details
Chicago
There is a large St Patrick's parade in Chicago, but the signature event here is the dyeing of the Chicago River Irish green - more details
Cleveland
Another large parade that takes place on the day itself, and is watched by huge crowds - more details
Dublin
The capital city of the Republic Ireland holds a hugely popular parade to mark the occasion - more details
New York
Widely ancknowledged as the largest St Patrick's day parade in the world, the New York parade on Fifth Avenue in Manhattan is watched by a live audience of millions - more details
Philadelphia
Philly hosts another large parade that takes place the weekend before the big day itself - more details
Savannah
A whole festival of events here, including a parade, pageant and plenty of Irish dancing - more details
Scranton
An official St Patrick's Day mass and a foot race through the streets precede the big parade here - more details
Washington DC
Constitution Avenue is the site for the parade here, the weekend before March 17th, and there are also marathon and half marathon events taking place ion the same weekend - more details
There are also major St Patrick's Day parades in London, Dallas, Kansas City, St Louis, Nashville, Las Vegas, Sydney, Seattle, San Francisco, Buffalo, Pittsburgh, Honolulu, Memphis and Davenport. We'll be looking to add live coverage from these events as and when it becomes available.
Reviews & Sharing
Page content by Martin Kerrigan. If you have found the content on this page useful then please feel free to share it with your friends and family, or if you have any information or updates that might be useful for us to add to the page then please contact us