Chicago St Patrick's Day 2017
Live Stream, Parade Route, River Dyeing, Time, Schedule
Downtown, Chicago, IL, 11 March, 12.00 Noon (River Dyeing at 9.00am)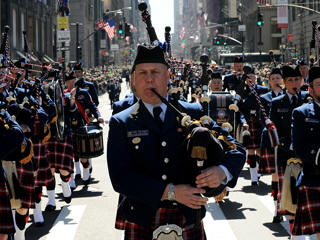 There are events and parades to celebrate St Patrick's Day in major cities all across America, and we would love to be able to feature them all, but time and space add their own constraints so we've had to try and be a little selective. The versions in Dublin and New York we felt pretty much picked themselves in terms of sheer scale, but after that there were some strong contenders in places such as Boston, Toronto, San Francisco and even Singapore...
So why Chicago? Well I have to confess it's because of the whole river dyeing thing. This is something I hadn't even heard of until a couple of years ago, but the more I read about it and look at the pictures and videos the more amazing I find this - I mean, they actually dye the Chicago river green! And not just a little bit green, but a really bright, vivid green as I hope the picture above captures.
As far as I'm aware this is a unique feature anywhere in the world and surely worthy of a visit alone, and this is the main reason Chicago has shot up to third place on my list of St Patrick's Day celebrations that I would love to attend one day. There is a parade too of course, which is very popular and well attended, but the signature event just has to be the river dyeing, so if you're in town on St Pat's, get yourself down to the Michigan Avenue or Columbus Drive bridges and have a look.
Route and Schedule
The parade and river dyeing in Chicago would normally take place on the 17th itself but in 2017 the events are instead moved to the Saturday before, the 11th.
The Chicago river dyeing starts the day off, scheduled to take place a little earlier this year at 9.00am. Recommended viewing points are:
Michigan Avenue Bridge (East side)
Columbus Drive Bridge (West side)
Wacker Drive between the 2 bridges
The parade then gets underway at 12 noon. It's pretty much a straight line so the route is easy enough to describe:
Start at Balbo and Columbus
Follow Columbus Drive
End outside the Chicago Art Institute
TV & Live Streaming
The viewing options aren't as widespread as some of the larger parades, but TV coverage is provided by local channel ABC7, which we can now confirm will also be streaming live online, with a full 2 hours of live feed from the St Patrick's Day celebrations:
See live coverage of all the top St Patrick's Day parades, including from Dublin and New York City on our live streaming page: St Patrick's Day live
Hotels and Accommodation
If you're in Chicago for St Patrick's Day then you'll need to get your reservation made as far is advance as possible to get the best prices. You can search and check availability for local hotels here.
Reviews & Sharing
Page content by Martin Kerrigan. If you have found the content on this page useful then please feel free to share it with your friends and family, or if you have any information or updates that might be useful for us to add to the page then please contact us