West Hollywood Halloween Carnaval 2017
Live Stream, Parade Route, Start Time, Schedule
Santa Monica Boulevard, West Hollywood, California, 31 October, 6-11pm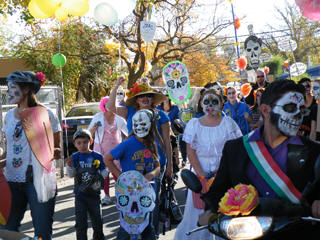 Halloween in the United States is celebrated with great enthusiasm and colour pretty much everywhere across the country, with adults and children alike joining in the party with gusto.
A big part of the celebrations is the Halloween parade, of which there are hundreds of varying scale across the country, the most famous probably the New York Village parade, but the biggest is actually the event in West Hollywood at their now iconic Halloween Carnaval.
This street parade and party stretches along over a mile of the famous Santa Monica Boulevard, from La Cienega Boulevard to Beverly Hills and this free event is attended each year by an estimated half a million Halloween revellers, making it a truly huge party!
Event Details
The party officially gets underway at 6pm and last until around 11pm, although in reality many will start their celebrations much earlier and carry on well into the night. You will need to arrive a searly as possible if you wish to secure a decent viewing spot.
The carnival parade is on Santa Monica Boulevard, in the area between La Cienega Boulevard and Doheny Drive in West Hollywood, and the whole area is closed to traffic for the duration. The highlights of the evening of entertainment are typically the costume competition and the crowning of the Carnaval King and Queen.
There are also 6 stages providing live entertainment, with a great lineup of top local performers.
Social & Streaming
The carnival parade is usually picked up for live coverage by the local network TV stations so there should be a live stream available. We will provide the link here as soon as we have it
Latest: Still no update on TV coverage, if there is a stream provided this will be the best source of information: WeHo Facebook
You might also like to check out some of the local webcam views, there are several in the area to help give you a taste of the action throughout the carnival:

Santa Monica webcams
Hotels and Accommodation
This is actually a good time of year to visit LA and Hollywood, with temperatures down at a reasonable level and the hotels not too busy in the gap between summer and Thanksgiving.
You can check availability and make reservations for local hotels here.
Reviews & Sharing
Page content by Martin Kerrigan. If you have found the content on this page useful then please feel free to share it with your friends and family, or if you have any information or updates that might be useful for us to add to the page then please contact us